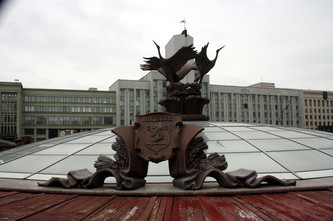 Whenever there is a need for ceasing fire or for some political solutions as for the conflict in Ukraine, Minsk seems to be the place to where all roads lead. In fact, having been the president of the ex-soviet republic for years, Alexander Lukashenko maintains excellent relations with Russia (Customs Union) as well as with Ukraine.
It's not only the geographic factor that connects these three countries. Ukraine and Belarus maintain close economic relations and share common history. Due to these facts, Minsk provides a constructive and relatively neutral atmosphere for negotiations.
Lukashenko is especially interested in a stable neighbourhood; all in all, ceasing the extensive fire would also have an impact on Belarus.
The humanitarian catastrophe in Donbass has frightened many citizens of the CIS-countries.
Apart from this motive there could be other reasons for the engagement of Belarus. In recent years Minsk has been strongly criticized by Western countries and so stayed offside due to the deficit of democracy in Belarus. Acting as a host and mediator Lukashenko has attached an even more critical international attitude to his political profile; however, this has a positive impact of the international position of Belarus.
Nevertheless, these effects and impacts can be fixed in the European awareness only provided the Minsk Format is of long-term character and contrastive nature.
Minsk apart from the talks
While keeping its mind on the talks, the elite of politics and diplomacy, journalists and international observers, upon the completion of its duties, it could take a look at the city itself.
While the surroundings of Minsk are rich in monasteries and castles, socialist classicism prevails in downtown of the city. Minsk is proud of its soviet inheritance and enjoys showing it. The major reason for that is the nightmare that the city experienced under the national socialists during the World War II. The horror of the NS-occupation and the role of the Red Army are documented in the Museum of the World War which is situated near the October square. The October square is hardly ever overcrowded; when in downtown one can call to mind thoughts of the soviet inheritance.
A little bit away from the centre the National Library is situated; it has gained its popularity due to its design. Accomplished in 2006, it is considered to be the prestige project of President Lukashenko. The futuristic lightshow is worth seeing, especially at night.
Quite near the National Library the "Coyote Bar" is located. Its visitors can enjoy various kinds of show – from ambitious Jazz concerts to spectacular Go-go shows.